Tartu International School is the only school in Southern Estonia offering both education and operation in English
TIS offers high-quality international education in Nursery (1.5 to 3-year-olds), Pre-school (3 to 6-year-olds), Primary (6 to 12-year-olds) and Middle School (13 to 15-year-olds).
We are a small student-centred school with class sizes up to 12 students providing
exceptionally personalised learning experience with teacher to student ratio of 1:5

English as the language of instruction and IB programmes

professionally recognized international staff

flexible and adaptable learning environment
newly-renovated premises

in greenery of the historical town centre

Estonian as a mother tongue for native speakers, Estonian as a foreign language from Grade 1

well-balanced integration of technology in teaching and learning

promotion of healthy lifestyle through additional physical education lessons and outdoor activities

variety of after-school activities

balanced and healthy school lunch

partnership with Tartu Finnish School
Currently, we have 43 students enrolled in grades 1-10 and 27 students in nursery and pre-school.
Come join us
Only three places left in grade one. Please read more on the Admission page or fill in the registration form here.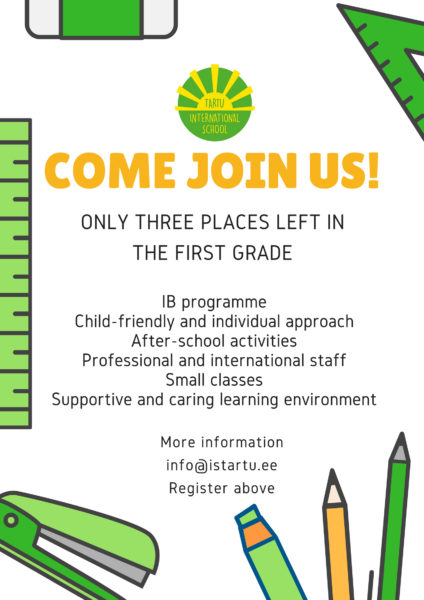 Registration to Children's School is Now Open
Registration to our English-speaking children's school for academic year 2018/2019 is now open. We aim to promote the joy of learning and passion to explore the world. Our children's school is open to little students of any nationality and mother tongue in age 5–6. Prior knowledge of English is not needed. See more information on the Children's School page or register here.